Press Release: Street Seats Winners Announced
Design Museum Portland announces winning outdoor furniture designs in Street Seats exhibition & competition.
For Immediate Release
High-resolution media images and additional information available here: bit.ly/streetseatsmedia
Design Museum Portland opens Street Seats: Urban Benches for Vibrant Cities, a major outdoor exhibition at World Trade Center Portland and Tom McCall Waterfront Park.
Portland, OR (August 14, 2018) – Design Museum Portland, in partnership with Portland General Electric Company and World Trade Center Portland, is thrilled to open Street Seats: Urban Benches for Vibrant Cities, a 6-month outdoor design exhibition of sustainable, innovative urban furniture.
Street Seats is the consummation of an open design competition by Design Museum Portland to reimagine the public bench. Fifteen designs from Portland, California, New York, Massachusetts, Iowa, Italy, Gibraltar, the U.K., Finland, and Hong Kong were selected to make up this public exhibition on placemaking, sustainability, and the built environment. Each bench was imagined, designed, and created by the designers themselves to embrace and enhance the vibrancy of downtown Portland.
"Street Seats truly exemplifies the transformative power of design, from the exquisite work of the built environment to the collaborative nature of creating something for a community." – Erica Rife, Managing Director, Design Museum Portland
Each design approaches the challenge in an entirely unique way, from a wheelchair-inclusive seat, to a multi-use playform, to a phosphorescent structure that glows in the dark. Materials for each bench were sustainably sourced, and many designs tell a story of the human connection to the natural world, and our ever-fluctuating relationship with controversial elements such as water consumption, plastic waste, and deforestation. The benches, both individually and collectively, allow for users to engage privately or socially, contemplate their surroundings, and spark conversation on our impact on the planet.
"We're proud to be home to the winning designs of the Streets Seats competition here at the World Trade Center," said Cindy Laurila, corporate real estate manager, PGE. "A space where sustainable design – inspired by Portland's commitment to the environment and livability – create connections and community."
Collaboration drives the success of the program in a true celebration of local, national, and international design. Partnerships formed between Portland material and service providers and non-local designers ensure that diversity in thought and creation complimented the existing local community, strengthening ties between our city and the world. Supporters of the exhibition
Street Seats is on-view at the World Trade Center plaza and Salmon Street Springs on the Tom McCall Waterfront Park through February 28, 2018.
Design Challenge
A hand-selected jury of design thought leaders, sustainability experts, and urban innovators reviewed each entry to determine the fifteen chosen semi-finalist designs and top two cash prize winners – The Grand Prize ($5,000) and Runner-Up ($2,000). These awards, along with the People's Choice award ($2,000), were announced at the Grand Opening on Thursday, August 9th. The winners were chosen based on execution, aesthetics, and comfort.
Finalists

Grand Prize Winner: A Quiet Place to Sit and Rest
This bench design originated with The Giving Tree by Shel Silverstein, the beloved children's book that tells the tale of a tree whose happiness comes from helping a boy throughout his life. This story sparked the idea of saving the world's flora starting with one tree in downtown Portland, as trees provide economic, social, cultural, and physical benefits to all living creatures.
Designed by Kyle and Alyssa Trulen; Portland, OR, U.S.A.

Runner-Up: Fluid Wood
Fluid Wood comes from the combination of the natural forest resources and the navigability of the Willamette River, two elements embedded in Portland's origins. Designed for a city that promotes communal consciousness as much as respect for individual expressions, the bench explores this dynamic with two different seating options, one for two people and another for an individual, each facing opposite directions.
Designed by Norberto Gliozzi and Axiom Custom Products; Portland, OR, U.S.A.

People's Choice, $2,000: Tub(Time)
Inspired by Portland's innovative weirdness, Tub(Time) is constructed from a repurposed bathtub, a common household feature that represents both water consumption and a place for rest and relaxation. The tub illustrates the city's urban grid and sinuous waterscapes, allowing users to feel submerged within their surroundings while thinking of water usage within a greater context, intending to spark conversations on Portland's water history and promote conservation by evoking a personal experience.
Designed by The Tubsters; Berkeley CA, U.S.A.
Semi-Finalists
Fractal Rock
Throughout the initial design process, the Holst team focused on sustainability and feasibility through responsible sourcing, minimal waste, and modular scaling. Using salvaged plywood and recycled aggregate concrete, Fractal Rock explores the idea of reusing construction waste to create a versatile furniture piece fit for mass production.
Designed by Holst Architecture; Portland, OR, U.S.A.
B_tween
Gibraltar-based design team Gamma Architects drew personal inspiration from the team founder's son, who lives with cerebral palsy and associated mobility issues. The two discovered many messages of exclusion in the built environment, ultimately leading to a meeting with accessibility advocate Benji Borastero, Gibraltar's first Paralympian. With Benji's guidance, the team set out to create a bench that is wheelchair-accessible in the middle of the seat, rather than to the side.
Designed by Gamma Concepts; Gibraltar
Fern
When creating Fern, Yingjie analyzed a birds-eye view of the city of Portland to determine the relationship between people and public seating. "If I consider a city as a forest, street furniture could be seen as the fern plants that live in a lower profile, but exist everywhere and provide convenience for the inhabitants." With this vision, she began to look for design elements within the site environment that complimented her inspiration.
Designed by Yingjie Liang; Helsinki, Finland
FUNGI
During the design process of Fungi, Ákos chose to consider the structural properties of mushrooms, mosses, and parasites, and their connections to tree trunks. This influenced him to combine wood, representative of Oregon's many trees and forests, with recycled bike inner tubes to raise people's attention to the importance of environmentally-conscious design and sustainability.
Designed by Ákos Huber; Portland, OR, U.S.A.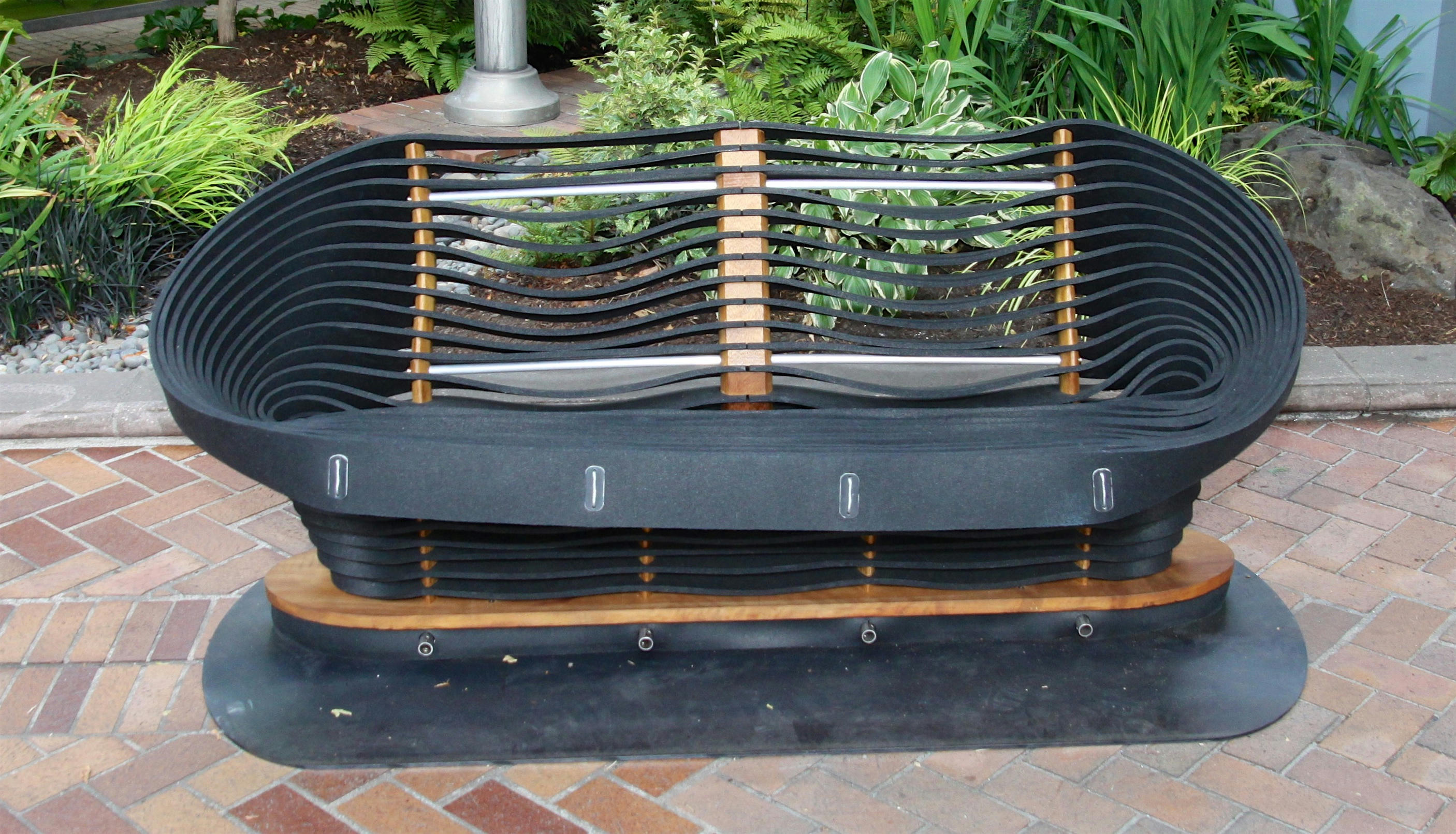 The Looper
The Looper mimics and mirrors the contradictions and complexities of cities, both mobile and static, new and old. Made primarily of end-of-life tires, the bench gives new life to materials exhausted for their original use but otherwise ideal for repurposing. The Looper is not just a seat but an entity that interacts with the environment and those who live within it.
Designed by NYXO; Castions di Zoppola, Italy
Lumiere
The Lumiere Bench is responsive and eco-friendly public seating, sustainably composed of a recycled plastic compound embedded with solar-activated phosphorescent material, which lights the street at night. Using this creative combination of materials, Lumiere Bench is multi-functional and sustainable urban furniture that brings out the surprise and playfulness to the city while raising environmental awareness.
Designed by LKL Design; London, U.K.
LOOPLAY
LOOPLAY explores the motion of a public bench as an urban playform, offering an attractive structure to engage people (and animals!) of all ages and activities. Seven unique loops serve different functions, heights, orientations, and colors, all while maintaining a connection to the surrounding environment.
Designed by Folio; Ames, IA, U.S.A.
River Bench
Influenced by the geological processes that formed the Willamette River, the twisted-form design creates visual tension, reflecting the push and pull of the region's tectonic plates. Mimicking how sediments deposit in the riverbed, the bench is made up of layers of dark gray representing volcanic sediment dating to eruptions 15 million years ago, a reddish pink representing the river's unique basalt make-up, and a top layer embedded with conglomerate river pebbles.
Designed by Sasaki & Concrete Poetry; Watertown, MA, U.S.A.
Manifold
Deeply interested in the relationship between people and space, Dening observed that aesthetic seating with curved and streamlined designs attracted more attention and positive reactions. Emphasizing practicality, he chose a hollowed structure suitable for the rainy weather of Portland. The bench is constructed with oak, a strong Pacific Northwest wood that can withstand heavy use in a public space.
Designed by Dening He; Portland, OR, U.S.A.
Patch Bench
Deeply influenced by the overwhelming inundation of oceanic plastic waste, Patch Bench began as an investigation into how to transform this environmental liability into a valuable material resource. The designers see the untapped potential of plastic waste as a means of creating a public amenity and are committed to making recycled plastic material accessible.
Designed by Dilly Dally Projects; New York, NY, U.S.A.
Lookout
The product of an intercontinental collaboration, Lookout is a simple and elegant bench with an innovative twist. Two design teams, Evolve in Portland and Kotobuki in Tokyo, worked together to create a bench that bridges the two cities. The unique design allows for a multifaceted user experience: sit and enjoy the view, lean against it while you finish your latte, use it as a stage, or fall in love at sunset.
Designed by Evolve Collaborative and Kotobuki; Portland, OR, U.S.A.
---
Events
Programs associated with Street Seats are planned throughout the duration of the exhibition to engage audiences of all ages and interests.
Grand Opening & Finalist Announcement
August 9 • 5:00-7:00pm • Free and open to the public
The launch of this 6-month outdoor design exhibition, featuring walking tours of the one-of-a-kind Street Seats, local food favorites, and a sun-filled evening.
Design Museum Mornings: The Giving Seat
September 14 • 8:30-10:00am • Free for members, $15 for non-members
Be inspired by Street Seats designers Kyle and Alyssa Trulen as they deep dive into the inspiration, process, and creation behind their bench, A Quiet Place to Sit and Rest.
Kids Workshop: Build Your Own Bench
September 22 • 10:00am-12:00pm • Free
Aspiring designers of all ages are invited to learn more about the Street Seats and imagine your own public bench.
UNITE Panel Discussion: Reimagine the Urban Experience
October 11 • 6:00-8:00 • Free for members, $20 for non-members
Industry experts discuss what it means to activate the visibility and livability of an urban area while being socially and environmentally conscious.
###
Partners
Street Seats is proudly presented by Portland General Electric Company and World Trade Center Portland, and sponsored by Skanska, Gerding Edlen, Zidell Yards, Klarquist Sparkman, Jupiter Hotel, RACC, Acme, and Lease Crutcher Lewis.
For full details on public programs visit designmuseumportland.org/streetseats
###
Social Media
#StreetSeats #VibrantCities #DesignIsEverywhere
Design Museum Portland:
twitter.com/DesignMuseumPdx
facebook.com/designmuseumpdx
instagram.com/designmuseumpdx
About Street Seats
Street Seats is a multi-faceted design challenge culminating in a public, outdoor exhibition that celebrates local and international design talent, civic innovation, and sustainability. As cities become increasingly dense, leaders are focused on developing urban spaces that employ creative functionality while preserving identity and celebrating culture. Street Seats activates the visibility and livability of an urban area while being socially and environmentally conscious.
We are proud to partner with the artGuideBook app for a self-guided family friendly tour. Simply download the app (through Apple or Google Play) and search Street Seats to see an interactive map of all the benches!
About Design Museum Portland
At Design Museum Portland we believe design can change the world. Done well, it can elevate our quality of life, make businesses more competitive, and protect our environment. Design awareness, education, and expertise are more important now than ever before as design continues to impact communities, organizations, and markets around the world. Design Museum Portland is redefining what it means to be a museum in the 21st century — we're online, nomadic, and accessible to all through a network of exhibitions, events, and content. Our mission: show the world the positive impact good design can have and create the most accessible museum imaginable. Design is everywhere. So are we.
For more information visit designmuseumfoundation.org